In David Fincher's film Zodiac, author Robert Graysmith's former wife Melanie is portrayed by Chloë Sevigny.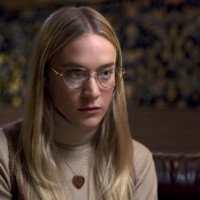 In this episode of Natter Cast, we speak with the real Melanie Graysmith about her experiences consulting on the film, the friendship she and Robert developed with San Francisco homicide investigator Dave Toschi and the impact both the real case and the 2007 film had on their lives.
Beyond her role in the Zodiac story, Melanie Graysmith is an accomplished writer, educator and artist. You can learn more about her work here on her website and on her Facebook page.
Melanie also has an interest in clockmaking. Pictured here is a clock she made for Dave Toschi commemorating Mark Ruffalo's performance in Fincher's film.


The Natter Cast extends its warmest thanks to Melanie for talking with us and for helping us with our podcast coverage of Fincher's film!